OCA Spaces Support & Guidance
This activity contains support and guidance regarding the use of OCA Spaces, including how to access and sign in, creating a new learning log and subsequent blog posts, to more intermediate and advanced features available.
Creating a new Learning Log
Prior to creating a new learning log, you'll first need to sign into OCA Spaces.
Upon signing into OCA Spaces, you can select the 'Add a Site' option, located on the left of the OCA Spaces homepage and as highlighted in red in the screenshot below.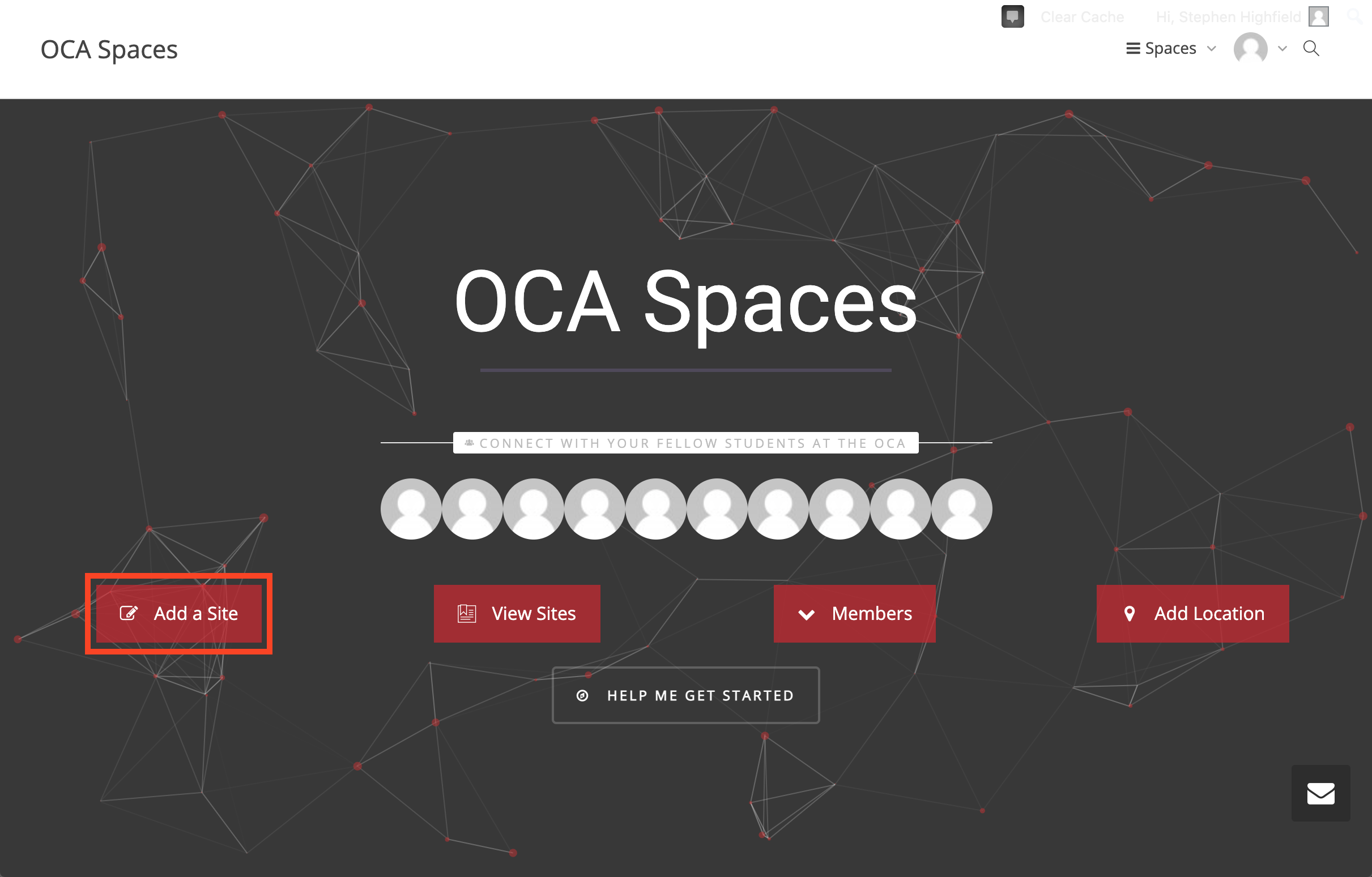 Upon selecting this option, you'll need to complete the following options as outlined below;
Site Name
For information regarding the importance of your site name, please refer to the Site Name description. In this one particular field, only lowercase characters and numbers are permitted, spaces ( ), uppercase characters and symbols are prohibited. You may wish to replace any spaces ( ) with a hyphen (-). Any error you receive when creating your blog likely includes either of these three validations.
Site Title
The title of your learning log and recommended to include the course unit, although like the site name, this is entirely at your discretion.
Privacy
The privacy setting affects who can access your blog, and The TEL Team recommends selecting the 'Visible only to registered users of this network' option. Selecting this option allows anyone with an OCA email account, including your tutor and fellow students, to access your blog.
If you'd rather your blog be available to everyone on the internet, select either the appropriate 'Yes' or 'No' option. For more information on the remaining options, or to find information on how to change your blog's privacy setting at a later date, please visit the Privacy Settings sub-chapter.
Template
Finally, you'll need to select the template most appropriate to your course unit. Students studying a Post-Periodic Review (PPR) course - often identifiable by the ten projects in the course contents - should select the 'HE4/5/6 (Level 1/2/3) 21/22 Template'. Additionally, some courses, for instance Music and Fine Art, have custom created templates.
Upon entering your preferred settings, you can then select the 'Create Site' option to complete the process.
Students are also encouraged to create an experimental test site, which can be used to experiment with different options, settings and process while safe in the knowledge any unexpected changes won't impact your learning log. Anyone who does wish to create a test site can do so following the above process.